Location & Directions
Nestled in the lake country of Central Minnesota lies Inspiration Point, a 41-acre camp and retreat center, where people of all ages can come away to be refreshed and renewed.
The Setting
Inspiration Point is situated on a serene peninsula in the middle of Spitzer Lake. This quiet body of water provides excellent fishing, swimming, canoeing, paddleboating, and kayaking.
The nature trails on our peninsula allow for peaceful walks and sightseeing. Bass, bluegill, northern pike, ducks, loons, bald eagles, herons, turtles, turkeys, beaver, deer, and many other forms of wildlife call this lake, with 18 miles of shoreline, their home.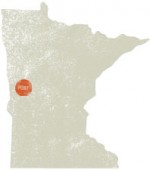 Directions from Minneapolis:
West on I-94 to Brandon Exit (#90). North on County Road #7 through Brandon and Millerville to County Road #38. Turn left for 2.5 miles to County Road #5. Turn right for 1 mile to Spitzer Lake Road. Turn left, follow gravel road to the end.

Directions from Fargo/Moorhead:
East on I-94 to Fergus Falls. Exit on Highway 210 East (#57). Follow 210 east to Clitherall. Turn right on County Road #5 and travel 9 miles to Spitzer Lake Road. Turn right, follow gravel road to the end.
Totally worth it - every penny, every minute of the drive - totally worth it!
Camper Parent