IMPACT Campaign
LOSING SPITZER
Following a decade-long battle with high water, the final chapter at Spitzer Lake ended in 2021 with the sale of that property. The lake, which has been rising for 30 years, made it impossible for the site to be used as a camp any longer. Several buildings, including camp's main structure, Lakeview, were damaged, and all possible avenues for timely and affordable mitigation were explored without solution. While we grieve the loss, we praise and thank God for using that special site for decades. How marvelous to see how God provided a spectacular new location to carry out the ministry! All proceeds from the Spitzer sale were directed toward the mortgage at Twin Oaks.


RAPID EXPANSION
Twin Oaks was originally purchased to handle overflow from Spitzer, accommodating up to 100 young campers. The flood meant Twin Oaks had to be expanded to 260 beds.


RAPID CONSTRUCTION
An aggressive construction schedule was imperative so that Inspiration Point wouldn't lose a camping season. Building began in January 2019 and was completed in time to open in June 2020, just 17 months later!
GROWING NEED
In 2022, summer youth campers from 14 different states arrived at Inspiration Point. Word is spreading! One needs only to look at the world in which we live to understand the increasing need for this ministry where young and old are drawn into a closer relationship with God, and leaders are equipped for service in their home churches and communities.
GROWING IMPORTANCE
Four years ago, we had no idea Twin Oaks would need to become camp's sole location. But God knew. God not only knew but has provided all along the way. Our gracious God has already supplied $6.2 million through the generosity of hundreds of faithful supporters, and we expect another $1.2 million to be provided by the end of 2022, which leaves camp with only $1.8 million to go!
It is critical that this final portion of the purchase is paid off, and as someone who has been blessed by God's work at IPoint, it is our hope you will join to help complete this effort. With your help, when this campaign is complete, Inspiration Point will be prepared to move forward in faith to serve all those whose lives will be impacted by the promises of God during time spent on these grounds for camps, retreats, and other events.


MUCH HAS BEEN DONE
With the help of hundreds of committed donors, Inspiration Point has already been able to:
Purchase 1,000+ acres for ministry
Provide accommodations for 260
Construct showers and restrooms, a swimming pool, an office, two amphitheaters, and 17,000 sq. ft. of dining, recreation, and meeting space
Move two buildings from Spitzer onto the property and build six suites below them
Repurpose a shelter into 5,000-square-foot, year-round, multi-purpose room
Build a 40'x60' maintenance building
PLANS
100% of gifts given will go toward paying off the mortgage on the camp property. So much has been done already, and camp leadership is committed to stewarding its resources diligently so that camp is equipped and prepared to fulfill its mission of "providing time, space, and Biblical teaching so that people encounter and follow Christ."


INSPIRATION POINT NEEDS YOUR HELP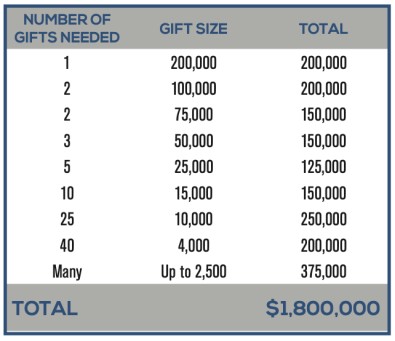 Would you please consider how you
might partner with IPoint over the next 36 months as we move forward in faith with this important project? Whether a one-time six-figure gift, monthly donations of $10, or anything in between, every gift is critical. To help you indicate your desire to invest in the ministry of Inspiration Point, please click here to submit a digital pledge card or click here to give a one time gift. We want you to know how grateful we are for your prayerful consideration.
THANK YOU!
One generous donor declared, "I support this camp because I know my money gets a bang for the buck. Lives are changed forever at camp, and I want to be a part of that." The far-reaching ministry of Inspiration Point would not be possible without the generosity of donors. IPoint doesn't charge its campers and guests extra to fund capital improvements. From its early years, people have been as generous as possible in order to move the vital ministry of camp forward. Thank you for considering how you might join in God's work at and through Inspiration Point with a one-time gift, pledge, or estate gift.