Senior High 2 is Underway!
Senior High 2 is underway here at Inspiration Point as roughly 200 9th-12th graders arrived to spend a week at camp! The week of camp was kicked off at the Hillside Opening Program where students were introduced to the 2022 summer theme of "Finish Strong!" God's Word guides us through the race of life and by Jesus's death and resurrection, we are given a new position and are told to run with perseverance toward the prize of eternal life!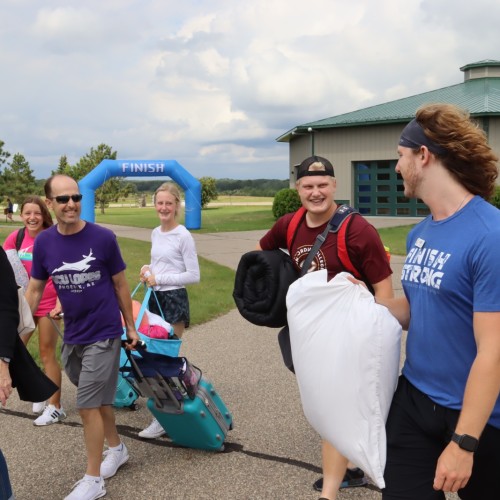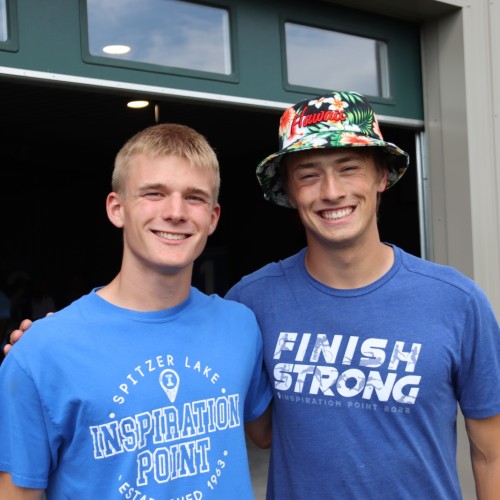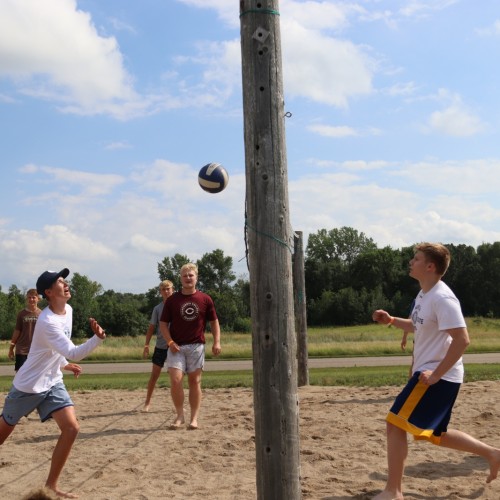 Following the opening at hillside, campers met their counselors, their fellow cabin mates, and began a time called WHIRLWIND, where they get comfortable as a cabin and learn about what will make this time at camp safe, fun, and meaningful. During this time, they also got to make their own custom topping slice of pizza and write a cabin song! Pizza night is always a highlight for campers and serves as the perfect meal to get campers excited! Campers always comment on how getting to decorate your own peice makes the flavor extra good!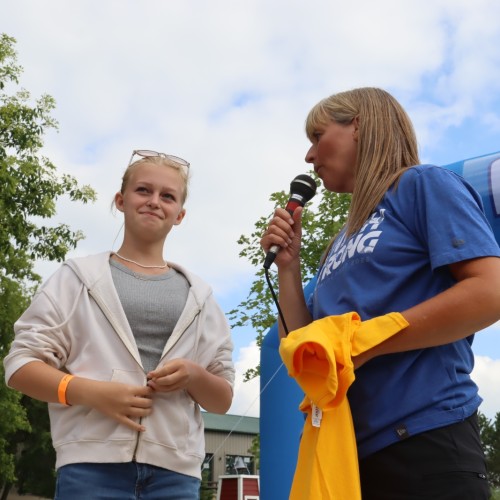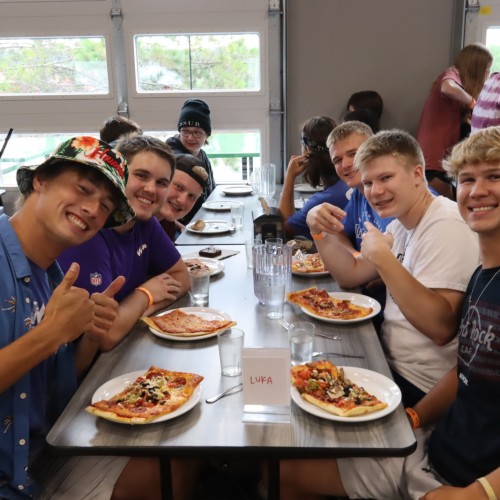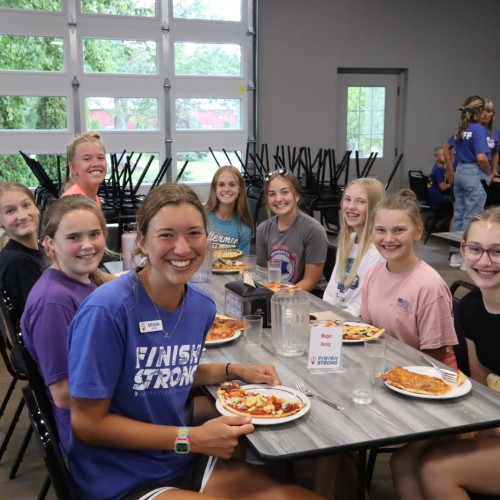 Senior High cabins get a head start in ADVENTURE COURSE, which is a time of team building, cooperation, and low ropes where guys and girls cabins come together to overcome challenges and grow personally and spiritually. Each of the Adventure Course teams met on the very first night following pizza to meet one another and set up expectations for the challenges to come throughout the week! Senior High Adventure Course is always an incredible time of growth.
Following Adventure Course, cabins gathered at Hillside for an all camp photo, practiced their cabin songs one more time and then entered into the White Oak Room for HOOTENANNY! Hootenanny is the first all camp gathering and activity that takes place on the first night of camp. Campers perform their cabin songs in front of the entire camp chasing the prize of first, second, and third to breakfast depending on their performance! The judges (aka our staff in costumer) judge each cabin song in the categories of (1) speed to the stage (2) volume and (3) cabin participation! While performing cabin songs is fun, the deeper purpose of Hootenanny is to help cabins come together, unify around something fun, and accelerate the relationships and depth that will come throughout the week! The 1st place winner of Senior High 2 Hootenanny was Tate's cabin!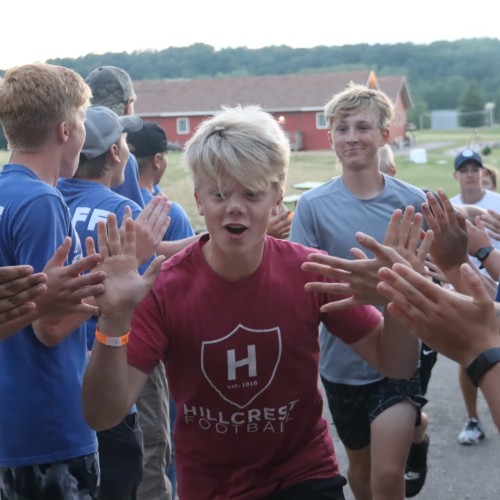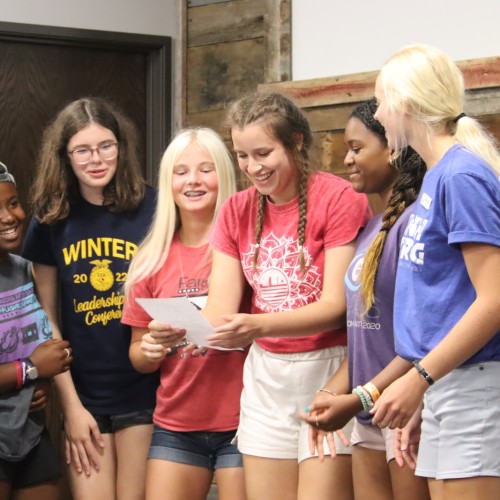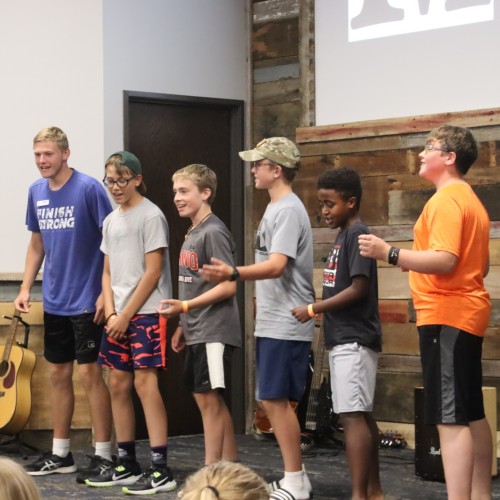 After cabin songs were performed with excitement, the campers were introduced to the Senior High 2 speaker, Todd Lens! Todd began by introducing himself and sharing some of the observations he has made about culture and high school students. He explained that the world needs hope and the best hope is the hope found in Jesus Christ! Then, he challenged the students to be like bison, not like cows. While cows run and scatter when a storm approaches, bison stand together and move into the storm! He elaborated by saying that this week at camp, each camper will have opportunties to encounter God and he prays that they would press into the storm and seek God! Todd gave an intro to the theme of "Finish Strong" and campers learned the first memory verse of the week.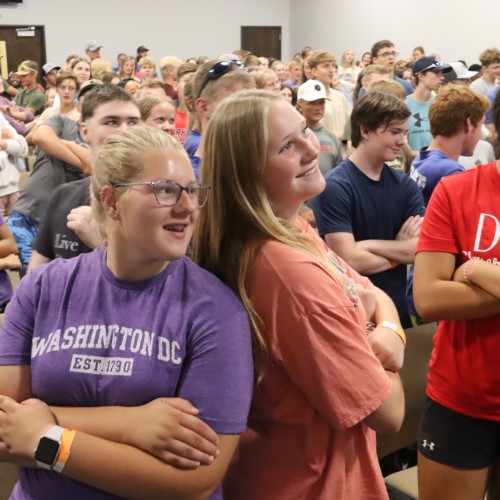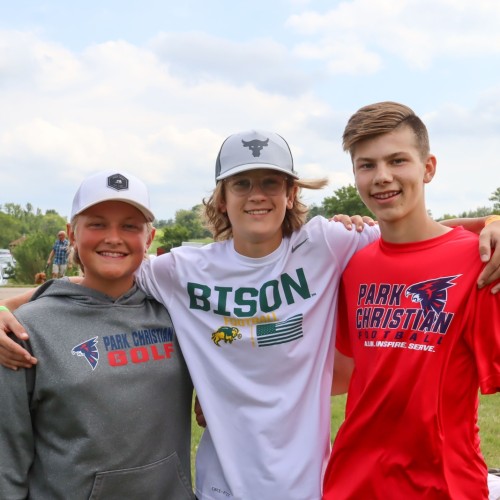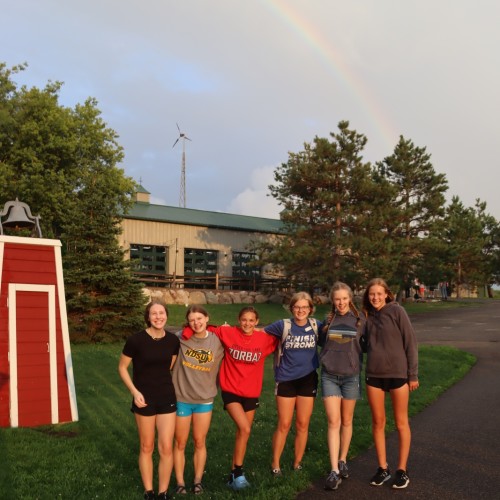 Isaiah 40:31 "Those who hope in the Lord will renew their strength. They will soar on wings like eagles; they will run and not grow weary, they will walk and not be faint.
As the night approached, campers put on long sleeves and bug spray and headed to campfire. Campers joined together singing camp songs like "Trumpet Sound," "Dig Down Deep" and ended with "Jesus is the Answer."
Please pray that each of the cabins here at Inspiration Point would have lots of fun, build meaningful relationships, and would grow in their relationship with the Lord during their time here!