Navigator 1 and L4 1 are underway!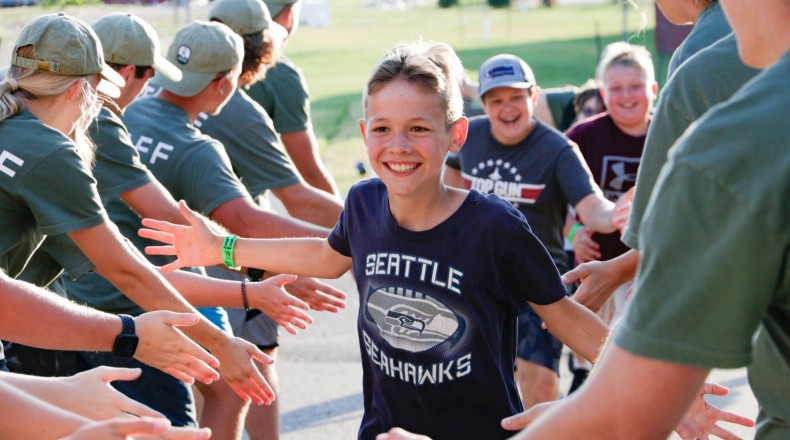 The 2023 summer ministry of Inspiration Point has officially began as 151 6th-8th graders and 21 L4 students were welcomed for Navigator 1 and L4 1! The campers began their summer camp experience by getting introduced to the 2022 theme of "ROCK SOLID" and then immediately got to meet their cabin leaders and cabin mates!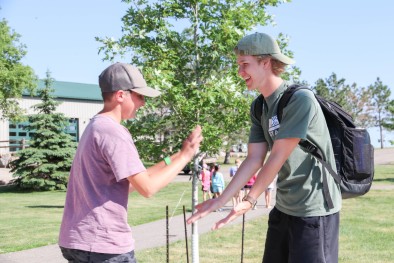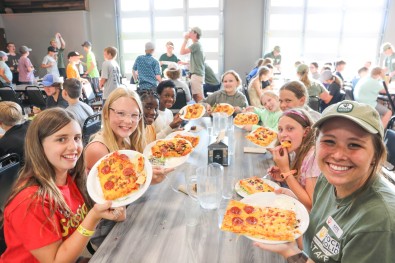 After getting acquainted with their new cabin mates, each cabin entered into a time we call WHIRLWIND, where they learn all of the most important elements of what will contribute to an awesome week at camp! Then, it's on to PIZZA NIGHT! The first night of every summer kids camp is a camper favorite meal consisting of a slice of "choose your own toppings" pizza, a brownie, and salad!
The fast paced nature of the first night of camp continued as campers gathered for a camp photo! Then, cabin leaders and campers head to the first all-camp activity of the week, HOOTENANNY! Here, cabins took turns performing their CABIN SONGS, which they worked tirelessly to write during supper, got introduced to the IPoint support staff, and learned the first theme verse of the week.
Psalm 62:2 "He alone is my rock and my salvation; He is my fortress, I will never be shaken."
The evening of the first night was concluded at the IPoint campfire pit, where campers and staff joined together singing camp songs and praying that God would use this week at camp to grow each camper's trust in Him!
Click any thumbnail to start a slideshow


Download

Share


Download

Share


Download

Share


Download

Share


Download

Share


Download

Share


Download

Share


Download

Share


Download

Share


Download

Share


Download

Share


Download

Share


Download

Share


Download

Share


Download

Share


Download

Share


Download

Share


Download

Share


Download

Share


Download

Share