Flooding at Spitzer Lake
Sptizer Lake Site Update 5/17/2021
On account of significant flooding at our Spitzer Lake site, Inspiration Point will now be operating exclusively at our new site, Twin Oaks. Because of this shift in location, we are currently holding an ONLINE AUCTION with many items from the Spitzer Lake property. There are around 750 lots for sale including shop equipment, furnishings, kitchen supplies, waterfront equipment, a gym floor, and more. The items for sale may meet a need that you have, or you may be interested in purchasing an item from Spitzer because the place itself has been meaningful in your life.
The auction is taking place in two phases – both are open for bidding at this time. The first phase will end on June 14th, and the second phase will end on June 15th. Here are the links to both phases of the auction.
Phase 1: https://bid.bid-2-buy.com/ui/auctions/63966
Phase 2: https://bid.bid-2-buy.com/ui/auctions/63968
If you have any questions regarding the auction, please contact kara@ipoint.org.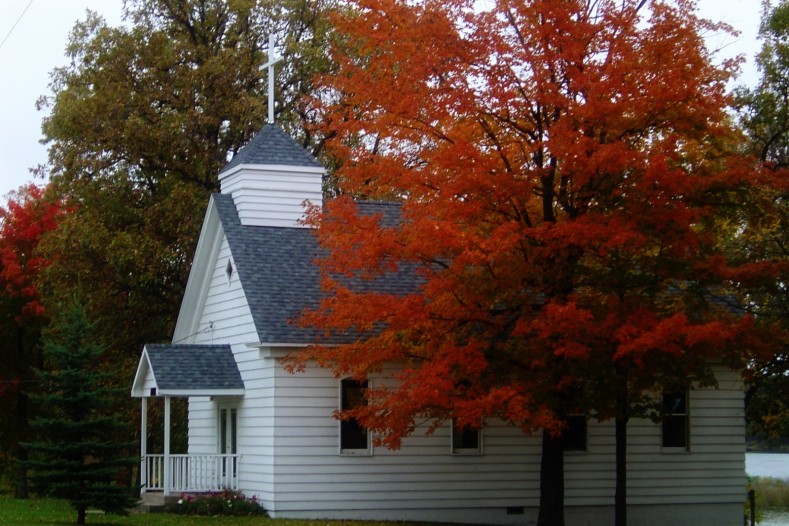 Spitzer Lake Site Update 10/21/20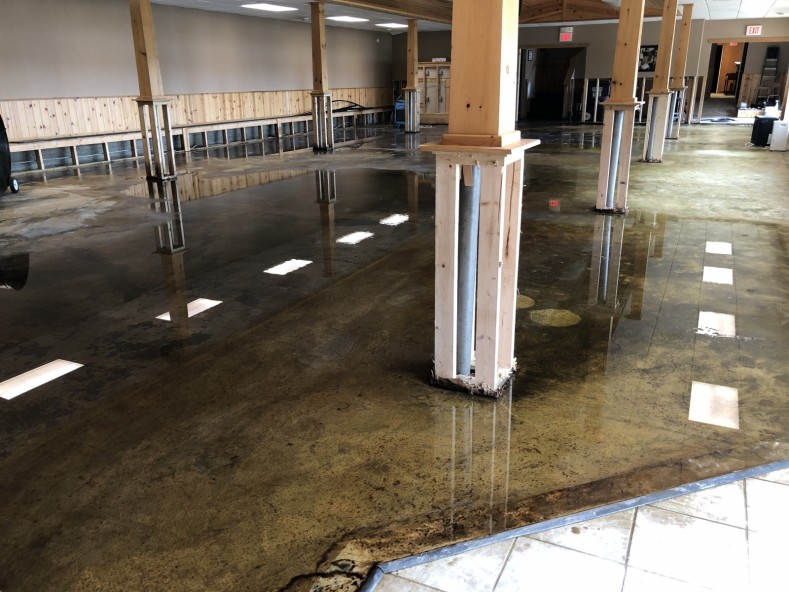 Lakeview Worship Center
If you are one who has a long history at Inspiration Point, you probably remember the days when we played volleyball where the John the Baptist scene now takes place. You might remember kids standing for photos on a boulder just north of the swimming area, or recall canoeing and bumping into submerged trees. Those trees and that boulder are now several feet underwater as Spitzer has risen more than 5' higher than it was in the early 90s.
In the summer of 1993, we made shirts for the staff that read, "Our God reigns and rains!" It was a wet summer, indeed. As it turns out, 1993 was the beginning of a wet cycle that would severely impact the property for decades. There have been years that were drier than others, but the lake level has climbed steadily ever since.
You may remember the significant flooding in 2011. After a significant financial outlay, we were able to hold the water back for several years but now can do no more. In fact, we don't see the ability to return to the site on Spitzer Lake. That's right. It appears that ministry is going to have to continue exclusively at the new Twin Oaks site. Here's why...
The high water has caused significant damage. The lower level of Lakeview has mostly been gutted. Despite our efforts sandbagging, cutting concrete and laying drainage tile, and running a bunch of pumps continually, the floor is below lake level, which causes intense hydrological pressure and water constantly coming up through the floor of the building.
There are many facts working against preserving the property:

• The lake has been rising for more than 30 years.
• If it were only about waiting for the water to go down, it would need to drop at least 3' and then stabilize before we could justify putting the hundreds of thousands of dollars forth to restore the property. That means that on a lake the size of Spitzer, nearly 800 million gallons of water would need to evaporate or be moved; that doesn't take into account any water added from rains and runoff.
• We received a report two weeks ago stating that FEMA has now removed the Temporary tag and re-classified Spitzer Lake as a Permanent High-Water Level body of water.
• The price of insurance, keeping buildings heated, grounds mowed, and other minimum expenses is more than $50,000 annually.
• Almost all the lawns have been destroyed and are either underwater or mud.
• There are more than 100 dead or dying trees.
Wiffleball field by the Soma Cottages
We've also worked with engineers and the governing authorities to see if constructing an outlet on the lake is a possibility, but even if an unlikely approval were granted, it would take 3-5 years for the project, at a price tag of $4-5 million. And, there is no guarantee it would work.
There is a rich history of ministry at the Spitzer Lake site, and we thank God for that. We have much to celebrate as we remember how God used that special property as a setting where the Gospel could be heard. There is a wonderful story of a 5th-grade camper who exclaimed at a campfire, "I know God doesn't speak any louder at camp, but I sure can hear Him better!"
Now we look forward to seeing how God uses another setting, Twin Oaks, as we continue the mission of "providing time and space for people to encounter Christ."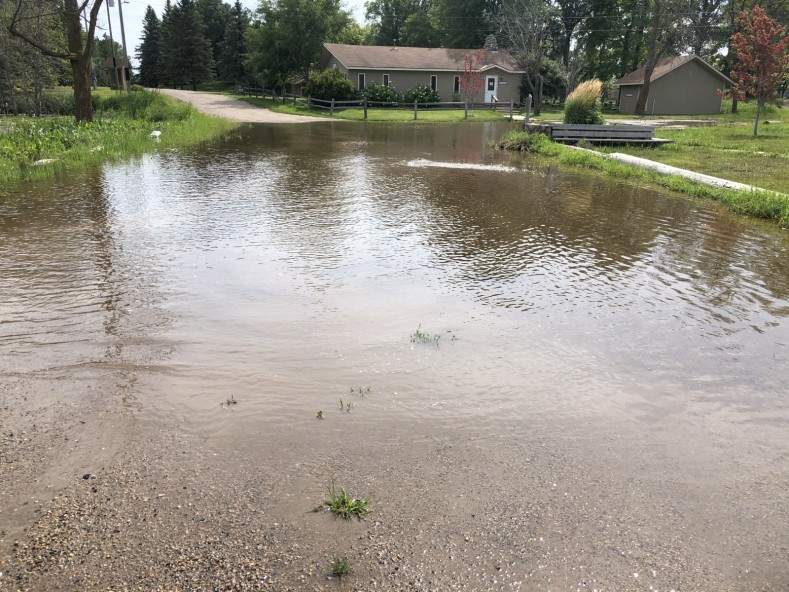 The Lakeview Parking Lot
SPITZER LAKE SITE UPDATE 7/10/20: Late this past spring, a volunteer placed large concrete blocks around the west perimeter of Lakeview Lodge in order to protect the building from over land flooding. The lake had risen so much that, at the time, one could not walk from the office to Lakeview without shoes getting wet. The lower level of Lakeview, including the Worship Center and Giftshop, have been essentially gutted due to standing water.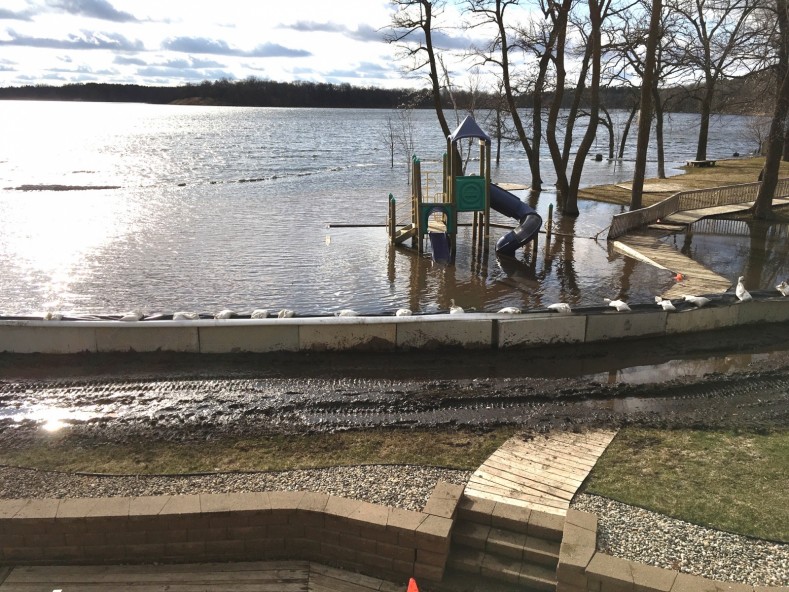 Concrete barrier around Lakeview
The lack of heavy rains so far this summer have helped. We estimate that the lake level has dropped 7-8" in May and June. This is good news, but there is a long, long way to go. Lakeview Lodge and the grounds have sustained significant damage. The home known as Spruce House is also a loss with lots of water in the lower level.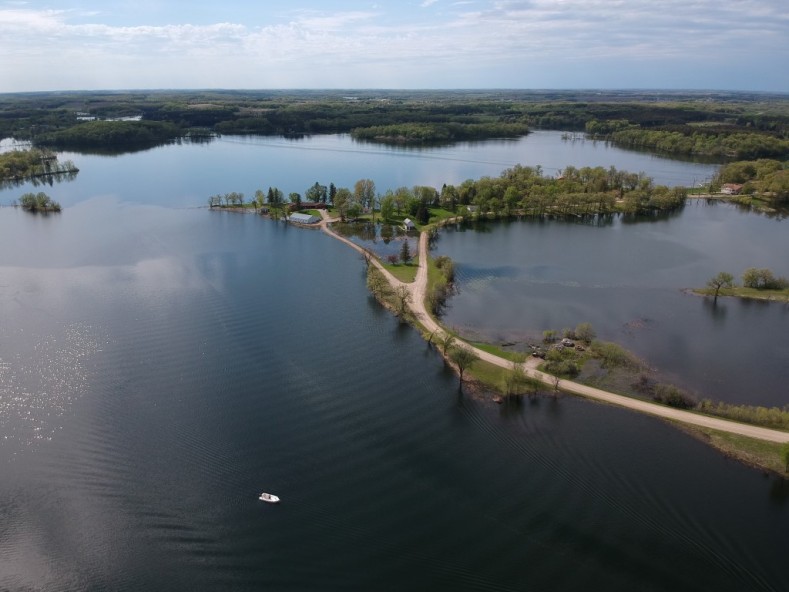 Aerial view entering camp
It has been an exhausting and emotional fight, chewing up financial resources, and we are praying and waiting on the Lord for a resolution.
Will we return to the Spitzer Lake site? Inspiration Point leadership is hoping for the best but know that there would have to be a significant and sustained drop in the lake level before we would invest the large sums of money it will take to make things usable again. We do have a caretaker living at the camp. He and our staff are providing limited care and protecting our assets there the best we can. There has also been a gate installed near the entrance to the main site now, and we ask that people do not travel into the property.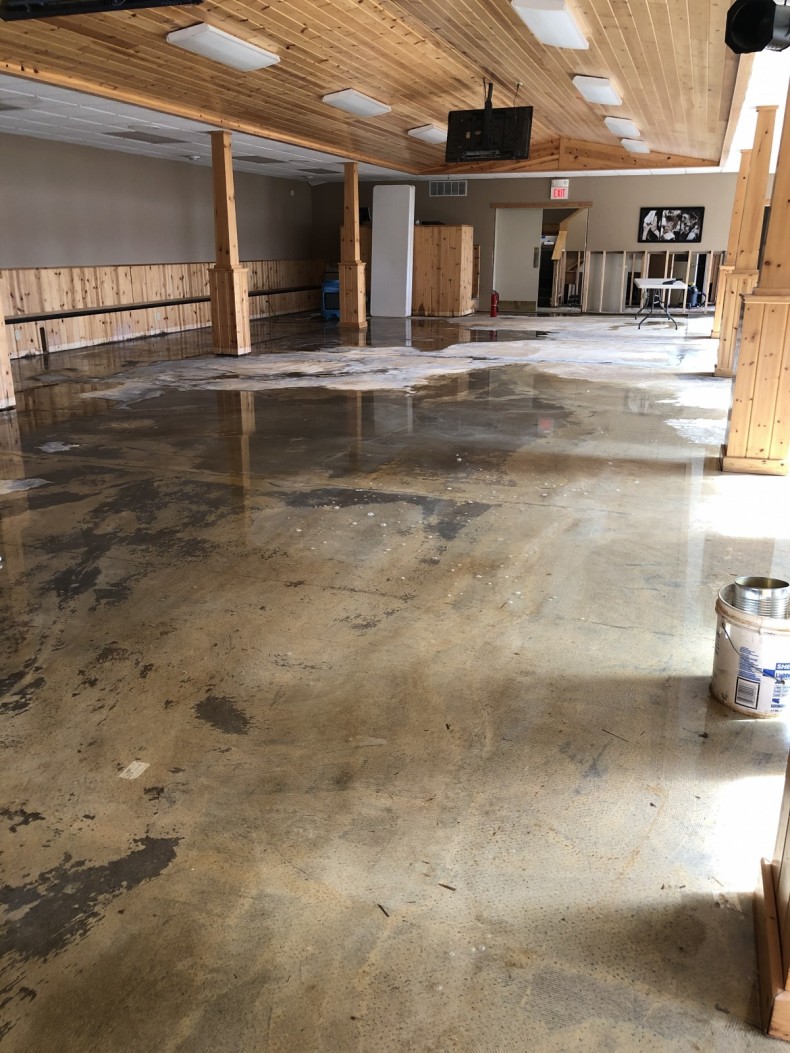 Lakeview Worship Center
SPECIAL ANNOUNCEMENT: The waters of Spitzer Lake have continued to rise this fall causing a great deal of issues at Inspiration Point. We anticipate that additional spring/summer flooding will greatly impact our ability to host camp at our Spitzer Lake site next summer. In order to serve as many campers and guests as possible, we have decided to shift all camps from Spitzer Lake to our new site, Twin Oaks. We are currently working hard to increase the capacities at Twin Oaks.
Since the early 1960s, Inspiration Point has been a place where thousands of people have entered into a relationship with God, strengthened their faith walk, and grown as leaders. The shores of Spitzer Lake have been home to uproarious laughter, unmistakable joy, important talks, moments of solitude, and much memory-making.
Throughout the summer and continuing this fall, Spitzer Lake has continued to rise. We have fought against the rising water all along. The water has risen so much that despite our efforts it has severely impacted our small peninsula and several of its buildings. Currently, thousands of sandbags stand guard along the front lawn, and pumps hum constantly trying to keep up with advancing waters. We've already spent $50,000 this year alone fighting this flood that seemingly will not relent. Water covers vast areas of camp, an interior road, the floors of several buildings, and continually seeps into others.Our staff has worked relentlessly to protect the camp as best we can. Scores of volunteers have jumped in to help. In fact, we've taken the fight as far as we are able. Conversations with local and regional government, engineers, and our neighbors have not provided any fixes that can diminish the impact of the high water in a timely fashion. We've wondered if we could bring in hundreds of cubic yards of fill, like we did eight years ago, but because of the intense underground water pressure and height of our current structures, that is not a viable solution.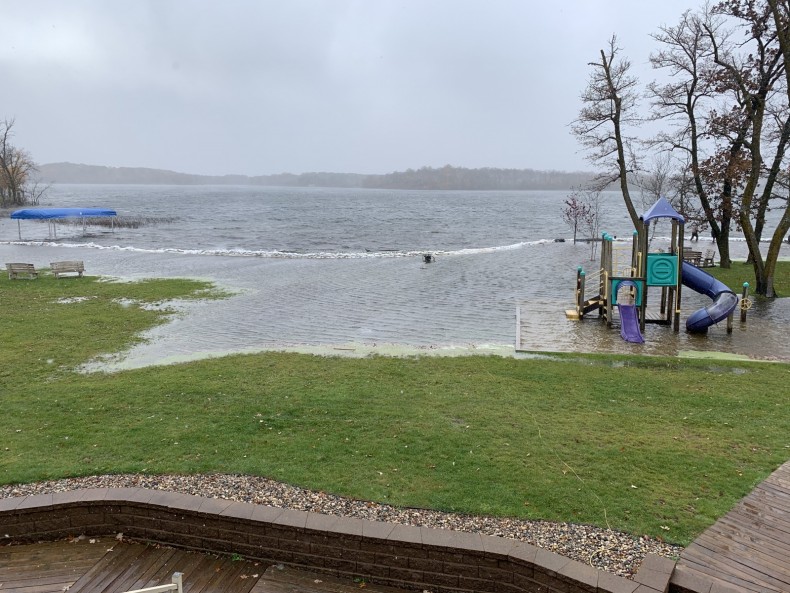 We have looked into, and continue to explore, the possibility of lowering the level of the lake by pumping and draining, but this will take two years at a minimum to initiate. The lake level stands more than 36" above the Ordinary High Level, which the Minnesota Department of Natural Resources defines as "the boundary of a water basin." Even if we were to receive all the necessary permissions to pump the lake, we would have to move nearly 750 million gallons of water just to get back to that point – and it would still be high! In addition to this, a winter with average snowfall will add another 5+ inches to the lake.
Unfortunately, we've run out of time and options, and a difficult, yet necessary decision had to be made. The board of directors and staff agreed that summer ministry at Spitzer Lake must be suspended this coming summer. This grieves us terribly.
We do intend to continue with our host of fall and winter retreats and rentals, until the spring thaw makes it impossible. We are so sorry for the inconvenience that this causes and will continue to do our best to minimize the impact felt by this trying situation.
Expanded Opportunities at Twin Oaks
Despite what is happening at Spitzer Lake, we are abundantly thankful for our new property, Inspiration Point at Twin Oaks, that will open this coming June. Our staff is working tirelessly to increase our originally projected capacity here so that we can provide a full range of camps at Twin Oaks, FOR ALL AGES. We are absolutely committed to serving as many people as possible at this beautiful new site. What would we do without it? We see, and are grateful for, God's provision of this new property that lies only twelve miles east of our Spitzer Lake site.
The Twin Oaks site will have all the things you've come to appreciate and expect from an Inspiration Point camp experience – tasty food, an exceptional staff, and an unwavering commitment to the Gospel. There will also be some activities and program events that we could never accomplish at the Spitzer Lake site. We will unveil more of those in the coming months.
I know there were many, many campers who, when they learned about the new property this past summer, wished that they would be able to go to camp at Twin Oaks. We never suspected it would be for these reasons, but now they can. In order to accommodate as many kids as possible, and so that we can serve as many family campers as we can, we've had to build a new summer calendar.
Click here to view the new 2020 Summer Calendar
Campers who have already registered for camp next summer will have a window of time, until November 27th for youth camps, to switch their registration to the camp of their choice at Twin Oaks, before any new registrations are taken. After the 27th, we will open our registration process again for all. For family campers who are already registered for next summer, your window will be open until December 15th to adjust if necessary. More information on how to make adjustments to your registration will arrive within a couple of days via email.
How you can help!
You may be wondering what you can do to help us out. As you can imagine, we have a tremendous amount of work to complete to get the new camp ready for next summer. Here are some ways that you can partner with us:
Pray. This is most important.
Volunteer. It will take armies of people helping us move critical elements from our Spitzer site to Twin Oaks. For example, we need to move much of the contents of our Shop before Spitzer Lake floods the building. We have grounds to prepare, buildings to paint, and lots of work that will just require many hands. Click here to be added to our volunteer email list.
Donate. As I mentioned earlier, we've already spent $50,000 that wasn't in our budget on the flood. There is more work that must be done to protect the assets at the Spitzer Lake site and increase capacity at our Twin Oaks site. We will be reaching out to you soon to provide you with an opportunity to partner with us with your donation.
While we are sorry that we are in the position of making this decision, we see God's hand working even in this situation. It may feel as though it is out of our control, but it is NOT out of God's control. You have our word that we will do our very best as we plan for an exciting summer at our new property, Inspiration Point at Twin Oaks. We hope to see you there!